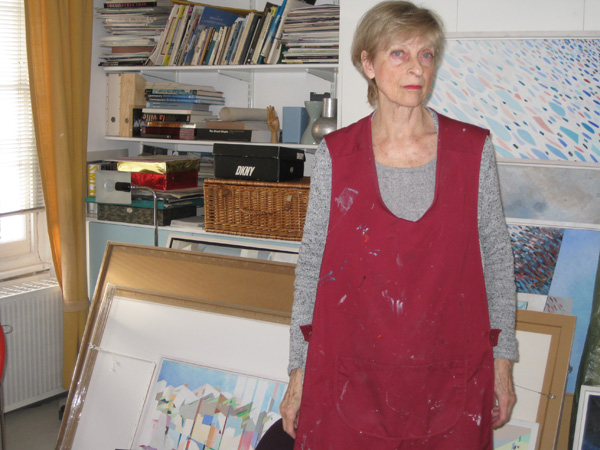 Born in Athens, Greece. Studied painting and drawing with Orestis Kanelis. Later studied interior design, stage design and painting at the Regent Street Polytechnic, London in the 1960s.
Zoe started her painting career as a founder member of OMA (Office for Metropolitan Architecture) and painted for presentations, exhibitions and publications. Gradually worked more on her own paintings and less on architectural presentations and thus in the 1980s became known as a painter in her own right, exhibiting in Britain, Europe and the US. Her OMA work has been exhibited in many Museums and Galleries including:
Time-Life Building, Permanent Exhibition, New York 1978
Museum of Modern Art, New York, 1978
AICA Congress, Poland, 1975
Institute for Architecture and Urban Studies, New York, 1975/82
The Guggenheim Museum, New York, 1978
Venice Biennalle. 1980
Dortmund, 1981 exhibition IBA Berlin, 1994
Stadelschule, Frankfurt
Pompidou Centre, Paris, The City, 1994
One-person Exhibitions
Ora Gallery, Athens, 1979
Architectural Association Gallery, London, 1985
Ora Gallery, Athens, 1989
Gallery K, London 1991
Architectural Association Gallery, London, 1992
Gallery K, London, 1996
Celine Gallery, Athens, January 1998
Yiorgi Center, Nicosia, Cyprus, March 1998
ArtTower Gallery, Athens,2000
Mission Gallery, London, 2002
Selected Group Exhibitions
Nina Dausett Gallery, Paris 1980
Royal College of Art, 'A space a thousand words', London, 1974
Rosa Esman Gallery, New York, 1981
Max Protech Gallery, New York, 1982
Camden Arts Center, London, 1982
Royal Academy, Summer Exhibition, London, 1987
Royal Academy Summer Exhibition, London, 1989
Long and Ryle Gallery London
American College Gallery, London, 1991
Cafe Royal, Federation of International Women Artists, 1992
Whiteley,s Gallery, 'Theory and Experimentation, London, 1992
Royal Academy Summer Exhibition, London, 1993
Gallery K, Bank of Cyprus Award Show, London, 1993
Gallery K, Summer Exhibition, London, 1993
RIBA ,Women in Europe. Exhibition, London, 1993
Art Fair Exhibition, London,1993
Royal Academy touring exhibition of North America, 1994-1995
New York, Washington DC; Chicago; San Francisco; Los Angeles.
Gallery K, Bank of Cyprus Award Sow, London 1995
Malta Biennale, 1995, Special Distinction Award
APA Exhibition, Mall Galleries, London, 1995
Bank of Cyprus Art Award, Nicosia, 1995
Critic's choice: Linda Talbot's Christmas Show, London, 1995
Leighton House, London 1996
Images of Architecture, Arc Gallery, London, 2000
Green Line Exhibition, War Museum Athens, 2002
Lost Heritage, Cyprus, 1974-2009
The Iacovos Georgiadis Collection, April 2010 Nicosia
Visions and Utopias- Architectural Drawings from the Museum of Modern Art
Schirn Kunsthalle, Frankfurt April 2003
La Ville Art et Architecture en Europe, Centre Pompidou 1870-1993
Dreamland; Architectural Experiments since the 1970's July 2008
9+1 Ways of being Political, MOMA October 2012-2013
Orangery, Holland Park Art Exhibition 2012
Future City 1956-2006, Barbican, London,2012
Orangery Gallery, 2013
The Friends of Holland Park Art Exhibition 2012
The Annual Art 2013 Exhibition Holland Park
The Orangery Exhibition 2014
Keats Community Library Exhibition April 2014
Being Modern, MOMA in Paris, Louis Vuitton Foundation, Paris, 2017.
Drawing Ambience, Washington University, St. Louis, Mildred Lane Kemper Art Museum, USA, 2017.
Orangery Gallery, Holland Park, London, 2018.
Alvin Boyarsky Archive, Flander Architectural Institute, 2018.
New MOMA extension, New York, 2019.
Draw-Art Fair, Saatchi Gallery, London, 2019.
Collections holding works by Zoe Zenghelis
Museum of Modern Art, New York
Gilman Paper Co., Time Life Building permanent Exhibition, New York
Hans Wagner private Collection, London
Peter Klimt collection, London
Alpha Credit Bank, Athens, Greece
Dr. A Papadakis collection, London
Frankfurt Museum, Germany
The Leventis collection, London and Cyprus
Drawing Matter, Niall Hobhouse collection